HELLO! I AM MANDY MANUEL.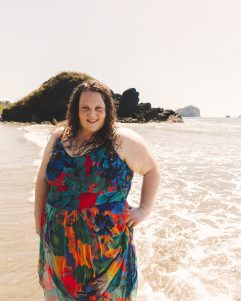 I INCORPORATE BOTH COMPASSION AND HUMOR INTO MY WORK AND TRULY ENJOY CONNECTING WITH OTHERS ON A DEEPER LEVEL.
I believe it is necessary to see a person in their entirety as opposed to focusing on simply one aspect of their living experience. In this way, I am curious about your mental, emotional, physical, spiritual, and social well-being and provide services that are able to address these areas of your life.
As a therapist and energy healer, I have a unique way of conceptualizing healing, growth, and transformation that rests in the understanding that love holds the greatest healing power. I would be honored to be along for the ride of your epic transformation journey toward living your full, embodied, authentic life!
I hold a Master of Arts and Master of Education in Counseling Psychology from Columbia University, and a Master of Education degree in Clinical Human Sexuality from Widener University. As a lifelong learner, I regularly seek new trainings to build my knowledge and stretch the ways I conceptualize the world around me. In addition to continuing education workshops in psychotherapy, I have also completed Deana Paqua's Shamanic Practitioner Training and JoAnn Inserra's Advanced Reiki Techniques.
Services Offered:
Mental Health Counseling and Sex Therapy
Mandy is licensed in Connecticut (LPC) and New York (LMHC). She offers in person sessions in her Westport, CT office as well as telehealth sessions.
She specializes in trauma, person growth and development, shadow work, and sexuality.
Trained in:
Emotional Freedom Technique (Tapping)
EMDR
Ericksonian Hypnosis
DBT (Dialectical Behavior Therapy)
Mandy uses an eclectic and whole person approach to therapy. Her work is rooted in compassion and love and pulls from various theoretical perspectives including Jungian shadow work/uncovering the unconscious, part work/inner child healing, and somatic approaches to releasing trauma and stuck emotions. She has a large tool kit to provide clients with practical skills to utilize in their daily life to usher in greater ease during challenging times.
Reiki
Mandy is a Reiki Master in both Usui and Karuna Reiki. She is also trained in Access Bars and Integrated Energy Therapy.
Coaching
Coaching is a great option for people who are looking for accountability towards specific goals, tools to help achieve these goals, and support and encouragement along the way. Coaching and therapy have many overlaps. A major difference between the two is that there is no formal diagnosis that is being treated.
Mandy offers:
Mindset Coaching (identifying limiting beliefs, reframing stories that hold us back)
Sexuality/Sex/Body Acceptance Coaching
Embodiment Coaching (integrating mind/body/spirit/emotions for a more vibrant life)
Workshops and Classes
Mandy hosts a variety of workshops and classes on a variety of topics related to:
Emotional, mental, and spiritual health
Sexuality
Embodiment practices
Reiki
Meditation
Stress reduction
Contact Info:
Email: mandymanuelcounseling@gmail.com
Phone: 203-520-7888
Website: mandymanuelcounseling.com
Instagram: becoming_embodied